Double-sided printed beach flags
Double-sided printed beach flags are very attractive because of the correct view of the text, logos and pictures on both sides of the flags. These beach flags are perfect when it is important that the message on the beach flag is conveyed correctly to visitors and customers.
Beside this feature the double-sided printed beach flags will also have equally bright colour printing on both sides, allowing the company image to be shown accurately and making it more easily recognisable and readable.
Double-sided printed beach flags have a longer lifetime than standard single-sided beach flags because the flags consist of three layers of fabric stitched together. The outer layers are printed and the middle layer ensures that you cannot  see through the layers. 
Not all manufacturers are able to offer double-sided printed beach flags, so our beach flags stand out. This, in combination with the right text, logos, pictures and colours makes these flags interesting for any company or organisation.
Just like the standard beach flags, the poles and bases can be reused for new activities. To set up a new campaign you only need to order individual beach flags, which are also available at beachflags.com. Double-sided printed medium flags are equipped with a heavier pole because of the weight of the flag.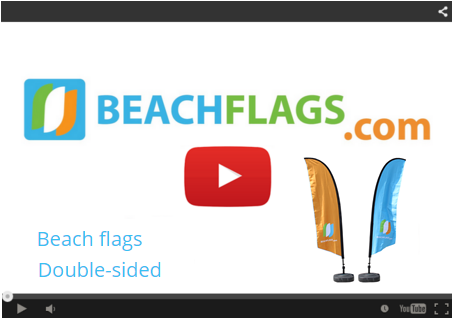 Advantages
Disadvantages

Correct view of colours
Correct view of texts and logos
Longer lifetime
Showy
Pole can be reused
Easy replaceble
Ideal for events and exhibitions

Higher initial investment