We try to provide our customers with all information about our beach flags. At beachflags.com you will find information about the materials we use, production methods and prices but also a clear overview of the dimensions of the beach flags. Questions about how to order a beach flag, shipping possibilities and payment methods you will find at our customer service. If you have any other questions or requests please contact us by email: [email protected] or by phone:+31 (0) 85 401 4648.
Order beach flags online
Beach flags can easily be ordered online through our website. Before ordering a beach flag and choosing the model, size and options it's important to know the location and how you want to use the flag. First you have to choose a model, then the size and options. If you want to use the beach flags inside you need to take a look at the height of your ceiling. There are also situations where a larger beach has a greater advantage. If you think about a car dealer or a concert you want to have the information visible above the cars or the crowd. A extra small beach flag or a small beach flag is not a good solution in this situation but you could choose for a medium or large size beach flag. In that case you can choose to put the information at the top of the flag.
Beachflags.com is designed to have you order your beach flags online, quickly and safely. We also want to help you out as much as possible by selecting the right beach flag for your situation.
Order safe online - SSL security
Ordering beach flags in a safe way is one of the important aspects of beachflags.com. Payments need to be made in a secure area but your logo's and designs need to be stored safely too. Our website is secured with an SSL certificate. If you login to check your account or to order products you will enter a secure online area. You can recognize this by the html code:


Your account details and files are stored safely at beachflags.com. Uploaded files will automatically be stored on one of our secured servers. Only beachflags.com has access to your files so we can check the files carefully before starting the production. You can change your account details and check your orders by logging in on your account. For more information about your personal data please check our Privacy Policy.

Furthermore, check out of the products will be done in a secure area. You can choose one of the known payment methods like PayPal and credit card (VISA, American Express). Below you will find an overview of the most important safety points for ordering beach flags online:

Pay safe with known payment methods (PayPal, Visa, MasterCard)


Your account details will be stored in a secure area


Your files will be stored at one of our SSL secured servers
Options
In the category Options you will find an overview of the options you can select while ordering a beach flag. One of these options is our famous double-sided printing. Most beach flag suppliers only single-sided printed beach flags. For an additional charge we provide high quality double-sided printed beach flags. A big advantage of these beach flags is the right view of your logo and text on both sides of the flags. Depending on your budget you could also choose for our standard beach flag or extra strong 24/7 air textile beach flags. Besides complete beach flags you could also buy flags without the pole and transport bag. For example if you have an exhibition and you only use the flag for a short time. The next exhibition you want to show customers other products so you need another beach flag. By ordering an individual flag you will save a lot of money. Select your preferences on the product page and combine your own beach flag!
Below you will find an example of a double-sided printed beach flag (left) and a single-sided printed beach flag (right). As you can see the text on the double-sided printed beach flags is easy to read!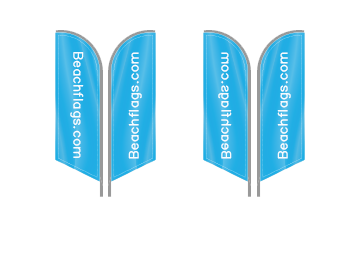 Downloads
On our download page you will find all the templates of the beach flags. You can select your model and size on this page and download the right PDF template for your beach flag. You can opt for a single-sided or double-sided beach flag and between a left or right fanning model. With a right-fanning beach flag the pocket is on the left side (right blowing because of the wind) and with a left-fanning beach flag the pocket will be on the right side. On the download page you will also find our latest beach flag price list and instruction manuals.
Examples
For beach flag references and examples from our customers you can take a look at our example page. You will see some brands that ordered beach flags before, and you will see some photos of example beach flags. Check out our latest customer reviews and take a look at what they say about our products. You can add your review of one of our products and let other customers know what you think about it.