Follow the next steps to deliver the files correctly.
You do not have any experience with creating a layout? No problem! We offer you one of our free specialists who can help you out. Send us your logo (.ai, .eps or .pdf) and we will make a digital example for you for free. You can upload your logo during the order process, afterwards in your account or you can send it to us by email [email protected].
Step 1 Download a beach flag template
After selecting the right beach flag model and size you need to make a design. For creating a design please use our templates. Templates can be found on the product page under the tab 'Templates'. We also have a template page with all the beach flags templates in an overview. You can download the template by clicking on the right model and size. Also choose if you want a right, left or double-sided template.
Step 2 Design
Our templates are made in Adobe Illustrator and provide with several layers (cutting lines, safe lines). A template can be edited with several different software programs. Some important points for creating a production ready design:
- Important text, logos and images must be placed inside the 'safe zone'. The space between the cutting line and red dotted line will be used to finish the flags;
- Convert texts (Fonts) to outlines;
- Design made up in CMYK colors (not RGB);
- Note color codes if important (PANTONE, PMS Solid Coated);
- Vector files created 1:1 and if possible delivered as Adobe Illustrator file (Adobe Illustrator, .AI, .PDF (vector) or .EPS);
- Images minimum in 300DPI (JPG);
- Send an example PNG or JPG file together with the artwork.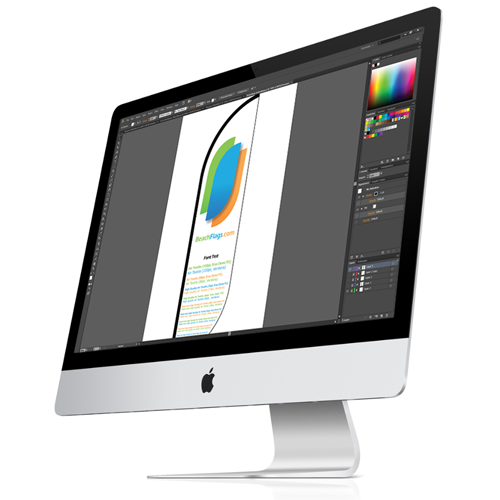 Step 3 Upload your files (1 or more files possible!)
As soon your layout is ready you can upload the files online during the order process. Larger files can be sent to us by WeTransfer: proflags.wetransfer.com. Always inform us when you send us a layout by WeTransfer or other programs (Name, contact details and address).
More than one design? No problem! you can upload more than one design through our website. You can also upload multiple logos and images. You will not have to pay extra for more layouts! You could easily order two beach flags with two different designs for the same price!
Step 4 Checking the files
Files which are uploaded on our secure servers or which are sent by email or WeTransfer will always be checked by one of our professionals. We check if the files are correctly made according to our specifications. If we find any mistakes we will communicate this with the customer. We will start the production only if the files are correct. You will always receive an order confirmation before we start the production.
Step 5 Delivery of the products
After our production time we will double check the products if everything matches with the order. If the products are approved they will be packed for shipping. Your order will be shipped with one of our trustworthy transporters like UPS, DHL or Fedex.