Order beach flags online
Order your beach flag easily, safely and quickly at beachflags.com. Follow these steps to order and compose your own beach flag:
Select your model;
Compose your beach flag by selecting a size, print, direction and accessories;
Add your wishes to the field 'remarks';
Beach flag templates are available on product pages in the tab 'templates (layouts)' or on the download page;Design your beach flag based on the template and upload your files or send them after placing the order;
Add the composed beach flags to your basket and place the order.
Files (layouts) can be send to us by using WeTransfer or by mail.
If you do not have the knowledge or software to create a design, do not worry. We deliver a free design service created by one of our design specialists. You can tell us exactly what you want to have on your beach flag and we will make a digital example for you. Send us your logo (.ai or .eps), texts (Font type), colors (PMS) or pictures which you want to have on your beach flag. Describe precisely how you want to have you beach flag and our designer will send an example as soon as possible. We will start the production of the beach flag after receiving your confirmation.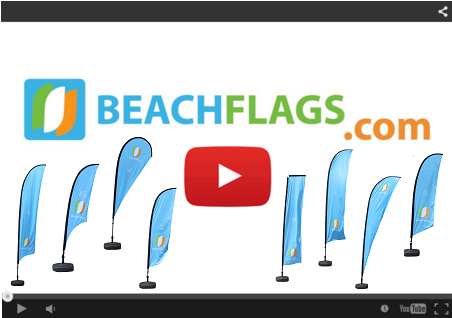 Beach flag models
We deliver a full range of different beach flag models. We have 8 different models, each available in 4 or 5 different sizes:Beach flag Straight, Beach flag Convex, Beach flag Flying, Beach flag Concave, Beach flag Shark, Beach flag Angled and Beach flag Block. Each model is available in the following sizes: extra small (XS), small (S), medium (M) and large (L). Choose between single-sided printing or our unique double-sided printed beach flags. You can choose for a right (standard) or left beach flag and as a finish, an extra strong black or white pocket. All our beach flags can be set up easily in a few minutes. If you have extra wishes or any questions please contact us by e-mail or phone: +31 85 401 4648