Single-sided printed beach flags
Single-sided printed beach flags are the cheapest beach flags we offer. Due to their competitive prices, these beach flags are ideal for events, exhibitions and activities with a short duration.
The pole and base can be reused so only need to be purchased once. To set up a new campaign only the individual beach flags need to be ordered, which is also possible at beachflags.com.
If you are going for quality and use your beach flags outside or rougher conditions regularly, you can order your beach flags in Air Textile material. These beach flags come in the same sizes as the standard single-sided printed beach flags and can be used with the same pole. You can choose to order the standard beach flags initially and, following a successful test period, you can order individual Air Textile beach flags or double-sided printed beach flags to increase their lifetime.
A potential disadvantage of single-sided beach flags is that the text and image/logo on the reverse is mirrored. Customers, visitors or other interested people may be less able to read the flag. In addition, the embossing on the reverse of the beach flag results in a 10-20% reduction in visibility, making the colors lighter than those on the printed side. To prevent this problem you can simply choose for double-sided printed beach flags.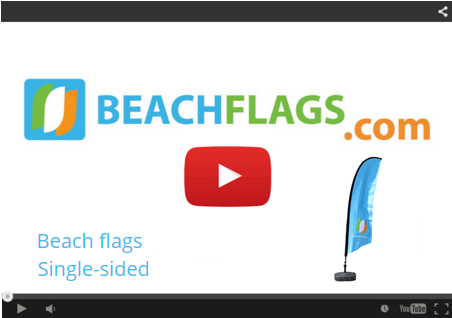 All the advantages and disadvantages in an overview:
Avantages
Disavantages

Competitive prices
Ideal for events and exhibitions
Pole can be reused
Easy replaceable
Available in Air Textile

Texts, logos and images are mirrored
10-20% reduction in visibility on reverse