Ordering mega flags
Order your mega flag quickly and easily on Beachflags.com Follow these steps:
Choose your model;
Assemble your mega flag by choosing printing, direction and Mega flag with or without flagpole (if you have a flag/banner yourself);
Add your wishes in the designated 'Remarks' field;
Templates can be downloaded in the 'Templates' tab, under the assembly possibility;
Design your mega flag in the downloaded template;
Upload your files;
Order your mega flag.
Files can be sent through WeTransfer or via mail.

In case you want us to design a mega flag, upload or mail your files of logos, colour codes and images of what you want to place on the mega flag. We will then email you a design which you can have produced, if you choose. We only produce after you have approved the design.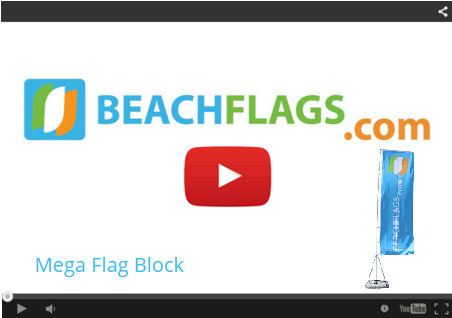 Mega flag models
We supply the following mega flag models: Mega Flag Block en Mega Flag Convex. With every model there is a choice for single-sided printing, double-sided printing or air textile. You can choose for a left- or right-facing model. When you still have a banner or flag to hang in the Mega flag pole, you can choose for only the flagpole (all Mega flagpoles come with flags by default) All mega flags are very simple to assemble. Every mega flag consists of a sturdy flagpole, a banner (flag) and a sturdy base (the mega flag holder). The mega flag holder can be filled with 60 liters of water so it stays standing. Do you have additional wishes or questions? Then send us an e-mail.